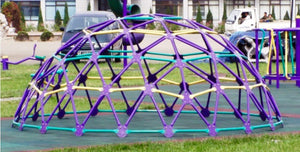 The OUTDOOR-FITNESS, Inc. Dome Climber is an enjoyable youth play apparatus that builds strength and dexterity while using legs, arms and balancing skills to move over and around the dome.
Built of high gauge steel, this item is a fitness playground and park favorite!
Shipping within the continental United States is included in the price shown. For a shipping cost quotation outside of the continental United States, please call 1-877-517-2200. We are a global supplier of OUTDOOR-FITNESS, Inc. equipment.